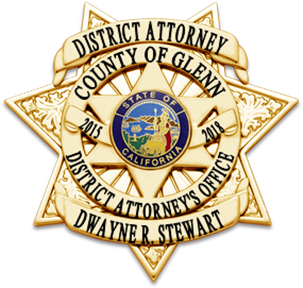 The Office of the District Attorney is staffed by full-time employees consisting of 4 attorneys, 4 administrative staff, and 1 Chief Investigator, each of whom is dedicated to insuring that justice is served on behalf of the residents of Glenn County. Our mission is to prosecute criminal violations of law with integrity and to support and protect the rights of victims of crime within Glenn County.
PAROLE DENIED!

PEOPLE V. GARY LEWIS COOPER - On August 21, 1993, Inmate Cooper and his accomplices murdered Filiberto Mendoza. The victim was shot in the head twice, execution style, after being lured to Stony Creek northeast of Orland. Inmate Cooper admitted he received drugs and money in exchange for murdering Filiberto Mendoza. Cooper was convicted of first-degree murder and was sentenced to 25 years to life in state prison in 1994.

Inmate Cooper was initially granted parole by the California Parole Board in October of 2015 over the objection of the Glenn County District Attorney's Office. Shortly thereafter Inmate Cooper violated his parole and was placed back in prison in 2017.

On January 6, 2021, a 4th subsequent parole hearing was held for Inmate Cooper since being returned to state prison. The board ruled that Inmate Cooper continued to pose an unreasonable risk to public safety and denied parole. DDA Coffey attended the hearing by video conference to San Quentin State Prison to oppose Inmate Cooper's release on behalf of the People of Glenn County. The Glenn County District Attorney's Office thanks the family of Mr. Mendoza for the powerful letters in opposition to parole which were considered by the parole board.

 

PEOPLE V. KYLE CHRISTOPER MINGS-  Defendant was convicted of felony violations of Penal Code sections 459, First Degree Residential Burglary and Vehicle Code section 2800.2, Evading a Peace Officer and was previously convicted of a felony violation of Health and Safety Code section 11366.5, Managing a Place for Controlled Substances. Defendant was sentenced to 5 years 4 months prison and ordered to pay $50,862.55. This case was prosecuted by ADA Neumann with assistance from Glenn County Sheriff's Office Sergeants Draper and Felon, Deputy Thompson, Detective Lopeteguy, and CHP Willows Officers Cushman and Willows.  

PEOPLE V. STEPHEN KRAIG GREEN- Defendant was previously convicted of a felony probation violation of Penal Code section 4573.6, Bringing Drugs into jail and was found in violation of mandatory supervision for the 1st and 2nd time. Defendant was sentenced to 977 days jail and mandatory supervision was terminated. This case was prosecuted by ADA Neumann with assistance from Glenn County Probation Office Deputy Perry.