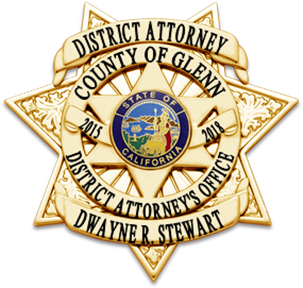 The Office of the District Attorney is staffed by full-time employees consisting of 4 attorneys, 4 administrative staff, and 1 Chief Investigator, each of whom is dedicated to insuring that justice is served on behalf of the residents of Glenn County. Our mission is to prosecute criminal violations of law with integrity and to support and protect the rights of victims of crime within Glenn County.
PEOPLE V. TILLIS, SHAWNTRE - Defendant, age 24 from Antioch, CA, was convicted of felony violations of TWO SEPARATE COUNTS of Penal Code section 191.5(a), Gross Vehicular Manslaughter of I.G. and F.G., TWO SEPARATE COUNTS Vehicle Code section 23153(a), Driving Under the Influence of Alcohol Causing Injury, TWO SEPARATE COUNTS Vehicle Code section 23153(b), Driving Under the Influence of Alcohol over 0.08% BAC Causing Injury, and SIX SEPARATE Special Allegations in violation of Vehicle Code section 23558, Injury or Death to Multiple Victims, J.D., R.D., C.R.D., Y.S., A.G., and E.S.

This vehicle collision occurred on March 12, 2017 and took the life of 2 people and injured 5 others including great bodily injury requiring multiple surgeries including a broken neck, when Defendant chose to drink with a blood alcohol content of .14/.13%. The incident took place on Interstate-5 just north of County Road 57 with Defendant driving impaired over 117 MPH and involved 7 vehicles in the collision. The victims deceased in this case were a 2 year old little boy and his father, I.G. and F.G., who were driving back home from Disneyland. Defendant was sentenced to the maximum sentence permitted under California sentencing laws 15 years state prison. This case was prosecuted by DA Stewart with assistance from the CHP – Willows Officer Kerr, MAIT Officers Mitchell, Dalin, Hamann, and Chico Police Department Officer Consiglio, and Glenn County Health and Human Services Agency - HHSA Victim Witness Advocate Jacinto. Dwayne Stewart, District Attorney, offers his heartfelt condolences to the survivors of this collision and commends Y.S. for speaking at the sentencing on behalf of her family losing her husband and son.

PEOPLE v. RODRIGUEZ, IVAN- Defendant plead to felony violation of Penal Code section 29800(a)(1), Felon in Possession of Firearm and Penal Code section 667.5(b), Prior Prison Term. Defendant was sentenced to 4 years state prison. This case was prosecuted by ADA Neumann with assistance from Glenn County Sheriff's Office Deputies Turner and Goodwin and Sergeant Owens.

PAROLE DENIED for Inmate Manning!

On July 9th 2019, at the California State Prison, Los Angeles County located in Lancaster, California a parole hearing was held for Inmate John Manning. Manning had previously been convicted at a jury trial of being hired to murder victim F.M., a father of four young daughters in Glenn County, over a drug debt. The plan to assassinate F.M. was carried out by Inmate Manning and two codefendants by luring the victim to a remote location and executing him in cold blood as he begged for his life. This case was investigated by Glenn County Sheriff's Office. Manning was sentenced to life without the possibility of parole. However, over Christmas 2018 then Governor Jerry Brown commuted Manning's sentence to life WITH the possibility of parole, which made Manning eligible for parole immediately. After a lengthy hearing, the Parole Board denied Manning's parole, and he will not be eligible for parole again for 3 years.